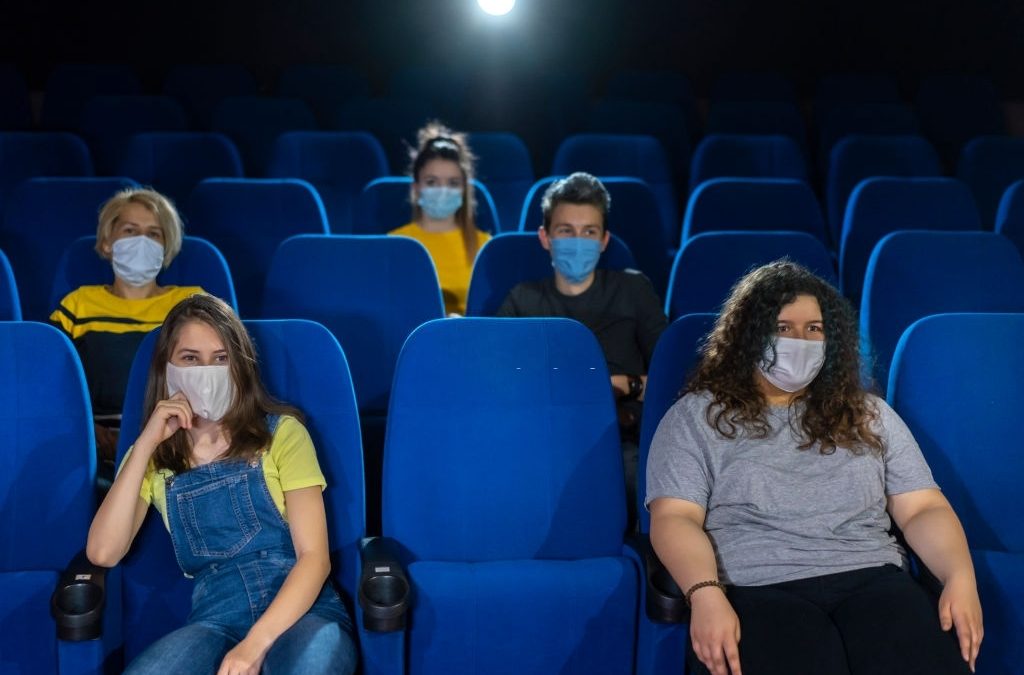 Mandatory masks, social distancing, handwashing, staggered showtimes and seating,cleaning and disinfecting all auditoriums, concession areas, surfaces and restrooms.

Welcome Back to 'The Movies', in the post-covid world.

After closing their doors for months owing to the COVID-19 pandemic, the cinema theaters are all set to become operational in many parts of the world like Bahrain, Qatar,India, Dubai, USA etc.

While we may be tempted to get back to viewing our favourite movies, soaking in the full cinematic experience, it is important to understand that the threat of the pandemic is still looming large, as the number of new cases continue to rise exponentially.

Therefore it is very essential for all of us to be aware of the precautions that we must take to ensure our movie – watching experience is safe and enjoyable.

So, before you get watching, get reading !

1. Social Distancing Standards
Image Source – Google

Appropriate physical distancing must be maintained between individuals, except members of the same household or those that attend together.The seating arrangement will ensure that the seat next to them is left empty to keep people from different households away from each other.
Please remember to maintain distance before, during and after the movie. Follow the directional signs and the reminders posted throughout the theatre for guidance.

2.Temperature check will be the new normal

Image Source – Google

Body temperature detectors will be used to scan customers to screen out those with an elevated temperature and only asymptomatic individuals will be allowed to enter the premises. Make sure you visit only those theatres in which thermal screening is carried out.
3.Wearing masks will be mandatory

Image Source – Google

Wearing a cloth cover or face mask while entering the cinema halls is mandatory to ensure the safety of the general public. All the customers, officials and people working in the ticket sale and food counters will be asked to wear masks.Those who are unwilling to wear a face covering will be denied entry.
4. Contactless purchase to be made available
Image Source – Google

The sale of movie tickets, food and beverages will be made online (or with the help of an app) to ensure contactless purchase and delivery. This is done to encourage contactless and paperless payments. Customers should try and minimize cash transactions and encourage credit cards or contactless payment methods. Theaters will eliminate communal food and condiments that require shared serving utensils or equipment. The audience is advised to avoid movement during the intervals. Longer time will be given during intermission for the viewers to settle safely, hence individuals should consciously maintain distance and avoid overcrowding in any particular area.
5. Hygiene comes first
Image Source – Google

Touch-free antibacterial gel stations (sanitizers), plastic gloves and garbage bins (to discard used tissues, gloves and masks) to be made available across all cinema halls.Hand sanitizer with at least 60% alcohol (EPA approved ethanol or isopropyl) will be liberally placed in easily accessible public areas and viewers are encouraged to make appropriate use of them to practice hand hygiene.
6.Cinema halls to be sanitized after every show

Image Source – Google

Deep cleaning of the theatres is recommended between screenings to ensure the hygiene and safety of the customers entering the cinema halls. Auditoriums are carefully disinfected between movie screenings. High-touch surfaces are wiped down periodically with EPA-registered disinfectant. Make sure to not overcrowd in the common areas, lobbies, and washrooms during such intervals.All customers should follow the demarcated circles at all cinema halls to ensure social distancing measures.
7.Self-check your health
If you have symptoms such as fever or cough, or have come in contact with someone with symptoms, please take care and go to watch a movie when you are all well.
Individuals above 60 years of age, people with comorbidities, pregnant women, and children below the age of 10 years are advised to stay at home.
Cinema theaters are finally ready to welcome all the cinephiles once again to enjoy their favourite movies on the big screen.But make sure you take all required precautions because Health is >>>>>

On that note, be safe but get watching now!
Related posts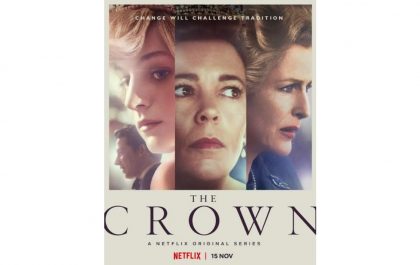 10 Best Drama Series You Cannot Miss Watching
Struggling with what to watch tonight? Look no further than the WanasaTime guide to the best Drama shows you cannot miss to watch. Full of true-crime series, old favorites, and a few that might surprise you with just how much it offers, this is the…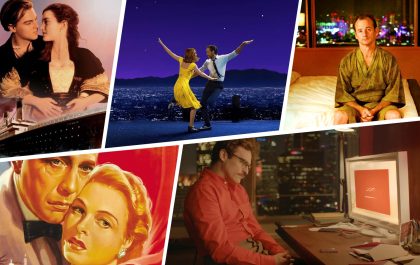 Best Rom-Com Movies To Watch This Month
Let's all admit this, RomCom movies remain the greatest movies ever made. It's about time we celebrate and acknowledge this. Here's a list about the same.